Perlite Based Products | Exterior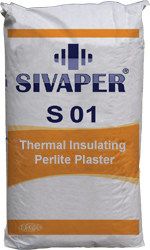 SIVAPER S01 - Thermal Insulating Perlite Plaster
Cementitious perlite based lightweight perlite plaster usable on exterior and interior walls. Contains powder additives enhance water repellency, higher strength and easy application.
Thermal insulating
Water repellent
Fire resistance – Class A1
Especially reduces pulsed sounds
Lighter than traditional mortars
Provides breathable walls with its porous structure
Doesn't cause humidity
Applied as traditional methods
Environment friendly
Packing :
15 kg paper bags (approx.55 lt)
Appereance :
White powder
Usage Areas :
Exterior/interior walls
Application Temperature :
+5
o
C / +35
o
C
Thermal Conductivity Class :
T1
Flammability Class :
A1
Consumption :
3,0 – 4,0 kg/m
2
.cm
Water Repellency :
Yes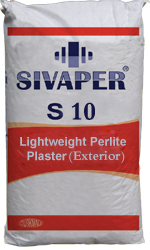 Sivaper S10 Thermal Insulating Perlite Plaster
Perlite based cementitious coarse plaster suitable for using on exterior and interior walls. Contains special additives provide water repellency, high strength and good workability.
Even lower density and better thermal insulation
Water repellent
A1 class non flammable
Reduces especially impact sounds
Lighter than traditional plasters;
Doesn't prevent breathing with its porous structure
Prevent humidity with its breathable structure
Applied with traditional plaster methods
Environment friendly
Packing :
7 kg paper bags
Appereance :
White powder
Usage Areas :
Exterior/interior walls
Application Temperature :
+5
o
C / +35
o
C
Thermal Conductivity Class :
T1 (TSEN 998-1)
Flammability Class :
A1
Consumption :
2.0 – 3.0 kg/m
2
.cm
Water Repellency :
Yes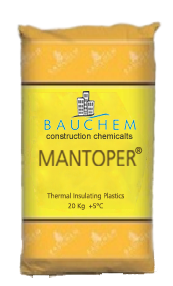 MANTOPER Thermal Insulating Perlite Plaster
Perlite based cementitious coarse plaster suitable for using on exterior and interior walls , Contains special additives Provide water repllency , high strength and good workability
Thermal insulating
Water repellent
A1 class non flammable
Reduces especially impact sounds
Lighter than traditional plasters;
Doesn't prevent breathing with its porous structure
Prevent humidity with its breathable structure
Applied with traditional plaster methods
Environment friendly
Packing :
20 kg paper bags
Appereance :
White powder
Usage Areas :
Exterior/interior walls
Application Temperature :
+5
o
C / +35
o
C
Thermal Conductivity Class :
T2 ( Ts EN 998-1)
Flammability Class :
A1
Consumption :
4,0 – 5,0 kg/m
2
.cm
Water Repellency :
Yes